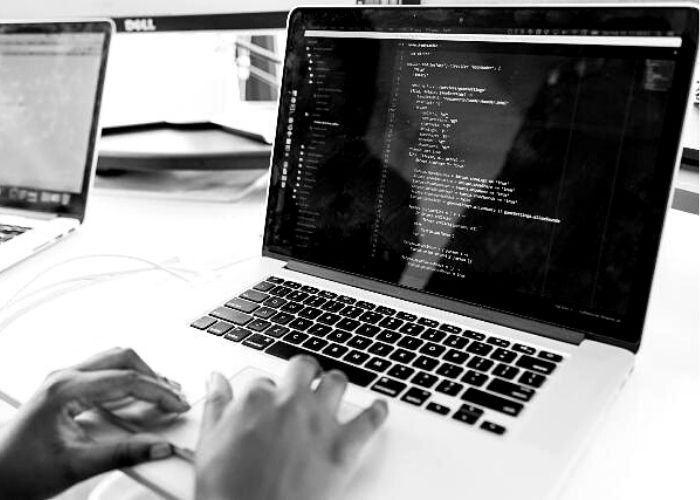 Find COBOL-specialister til dit projekt
Eller brug formularen, så kontakter vi dig
Har du brug for en konsulent, som skal hjælpe jeres projekt på rette spor? Så er du kommet til de rette folk. I Avenida har vi mange års erfaring med at hjælpe vores kunder, så de får fat i den bedst mulige udvikler til deres unikke projekt.
Vores database er stor og indeholder en masse top kvalificerede IT-specialister, som står klar til at hjælpe dig.
Udfyld blot formularen her og så går vi på jagt efter den perfekte programmør, som rammer netop det I søger.
Indenfor blot 24 timer (på alle hverdage) vil du have kvalificerede bud på CV'er fra dygtige COBOL-udviklere i din indbakke. Vores service er ganske gratis og helt uforpligtende.
Hvad er COBOL?
COBOL er et højniveau-programmeringssprog, som tidligt fik sin medgang. Navnet er en forkortelse for "COmmon Business Oriented Language", og var oprindeligt tænkt som et programmeringssprog målrettet til firmaer, økonomi og administrative systemer til større firmaer og regeringer.
Der er defineret mange ord i COBOL til forskellige formål, da man gerne vil gøre sproget nemt at lære. Dette gør at man som udvikler skriver i noget som minder meget om det engelske sprog, hvilket klar giver en fordel for forståelsen af sproget.
En anden fordel med sproget er, at det er lavet til at udføre simple opgaver indenfor opgaver som bogføring og lagerstyring. Dog er COBOL mindre godt at bruge til større opgaver, såsom avancerede programmer og andre mere kringlede funktioner.
I modsætning til mange andre kodesprog er der ingen lokale variabler, hvilket gør at der ikke er mulighed for gængse funktionskald. Dette betyder at det heller ikke er muligt at rekursive kald.
COBOL's struktur
Et program som er skrevet i COBOL er delt op i fire dele. De fire dele kaldes divisioner, som hver har deres eget ID.
ID'et defineres gerne efter programmet/funktionen man opretter.
En anden inddeling, som sproget også indeholder, er environment-divisionen, der beskriver programmets omgivelser. Her kan man for eksempel bruge variabler til at definere forskellige funktioner. En funktion man kunne definere var, at komma bruges som decimaltegn. Sleve programmen skrives i procedure-divisionen.
COBOL-compileren er sensitiv over for hvor på linjen en bestemt instruktion bliver placeret. Der er nogle simple regler, som sproget anser man følger for at det kan virke optimalt. For eksempel må en programlinje max være 80 tegn, de første seks pladser er reserveret til linjenummeret og det syvende tegn fortæller om linjen er en kommentar eller ej. Denne plads bruges også til at instruere printeren, i tilfælde af, at kildekoden skal udskrives.
Instruktioner
Der er efterhånden defineret mange instruktioner i COBOL. Nogle af de mest benyttede beskrives herunder. MOVE er en instruktion, som kopierer indholdet fra en variabel til en anden. Er de to variabler forskellige typer, bliver indholdet ændret. Således kan tal i en tekstvariabel kopieres til en numerisk variabel, og der kan uden besvær regnes på den. Der kan laves beregninger med kommandoer a la: "Add A to B giving C". Dette er en almindelig kommando kaldet COMPUTE.
Der er strukturer i kontrollen, som gør at så-løkker og hvis/så-konstruktioner kan laves som i andre programmeringssprog. Programmet er som beskrevet inddelt i sektioner, der kan lades fra andre dele af programmet. Dette sker med PERFORM, der også bruges til løkker.

Skal vi finde jeres næste COBOL-udvikler?
En stor betydning for et IT-projekt, er at finde den helt rigtige konsulent, som kan hjælpe projektet i hus.
Det vil vi gerne sikre vores kunder! Derfor har vi specialiseret os i at finde og matche de rette freelancere med de opgaver som vores kunder skal have løst.
Vores database indeholder mange kompetente specialister, blandt andre COBOL-programmører, som blot venter på at hjælpe jer! Når du/I har udfyldt formularen, så sender vi inden for 24 timer (på alle hverdage) CV'er på kvalificerede freelancere, der passer til netop jeres unikke projekt.
Det er ganske gratis og uforpligtende, at bruge vores service.
Brug for en specialist? Få CV'er tilsendt på under 24 timer