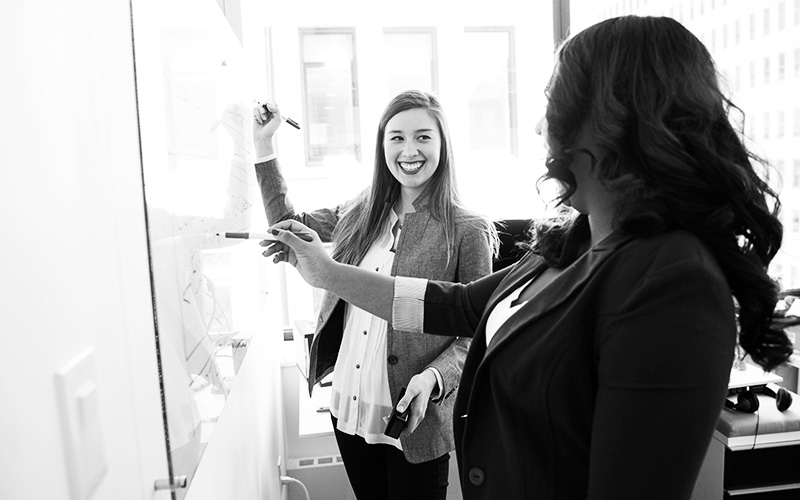 Find eksperter til udvikling i Perl
Eller brug formularen, så kontakter vi dig
Hos Avenida har vi flere års erfaring med at finde de dygtigste webudviklere og IT-specialister til vores kunder.
Vi har et stort netværk, som blandt andre indeholder Perl-specialister, som kan arbejde inden for mange forskellige IT-projekter.
Perl er et af de udviklersprog, som har haft sin storhedstid, men nu er ved at blive overhalet af mange af de nyere sprog, som skyder frem i lyset, og som der kun kommer flere og flere af disse år. Dermed ikke sagt at sproget er uddødt, tvært i mod.
Der er stadig massere folk, som udvikler eller skal have udviklet noget i Perl. Derfor har vi taget de rette kort på hånden for at være den bedst mulige hjælp for vores kunder.
Udfylder du vores formular, så sender vi dig CV'er med kvalificerede bud på din næste konsulent, der kan udvikle i Perl.
Inden for blot 24 timer (på alle hverdage) vil du have CV'er på nogen af Danmarks dygtigste IT-freelancere i din indbakke.
Vi står klar til at gribe bolden og finde den rette udvikler til netop jeres projekt.
Vores service er naturligvis helt gratis og uforpligtende at bruge.

Hvad er Perl?
Perl er et programmeringssprog opfundet af Amerikanske Larry Wall. Sproget blev første gang lanceret i 1987 og fik hurtigt stor indflydelse blandt webudviklere verden over. Det blev hurtigt et "powerhouse", men har siden da gennemgået mange og store forandringer, og desværre fået en smule modvind de seneste år.
Den hurtige popularitet var dog ikke uden grund. Det er et nemt og hurtigt sprog at kode i og giver udvikleren mange muligheder.
Navnet Perl betyder "Practical Extraction and Report Language".
Sproget blev udviklet ud fra nogle få og simple principper, som de forsøger at opretholde.
– Der er mere end én måde at gøre tingene på. (deres motto)
– Lette ting er lette og svære ting er mulige.
– Vores brugere er glade.
Hvad bruges det til?
Perl er et fortolket programmeringssprog, hvilket betyder, at funktionerne udføres direkte og ikke gennem tidligere kompileret programmeringssprog.
Sproget bruges bl.a. til at lave dynamiske websites med. Skal man lave et chatforum vil Perl være en oplagt mulighed.
Længe har det være udviklernes foretrukne programmeringssprog til CGI-applikationer.
Oprindeligt er det udviklet til at gøre Unix-systemer lettere at administrere. Sproget kan bruges til mange ting, sågar at lave spil.
Konkurrence fra andre sprog
Perl bliver ofte sammenlignet med både Python og PHP og det er ikke helt uden grund. De er alle tre sprog, som kan mange af de samme ting.
Perl var det første programmeringssprog for "back-end"-udvikling, hvilket måske også siger en del om, hvorfor de den dag i dag har fået stor konkurrence fra nyere programmeringssprog.
Det anvendes steder som web-server til databaseadgang og generering af HTML. Python er det dominerende af disse sprog og bruges især indenfor finanssektoren til bl.a. statistik. Derudover er det meget udbredt indenfor Machine Learning.
PHP bliver stort set brugt til det samme som Perl, men blev udviklet knapt ti år efter Perl og har derfor nogle nyere funktioner med i baggagen.
Vi er klar til at finde jeres næste Perl-konsulent
At finde den rette IT-freelancer kan være afgørende for at opnå et succesfuldt projekt. Leder du efter det rette match, der kan sikre dit projekt succes, så er du kommet til det helt rigtige sted. Hos Avenida har vi stor erfaring med at finde og matche IT-konsulenter med vores kunder, og gør vores ypperste for at finde de helt rigtige folk til opgaven.
Vi har en stor database med nogen af landets dygtigste freelancere, som står klar til at hjælpe dig. Vi skal blot have lidt informationer fra jer omkring projektet, og så sørger vi for at matche jer med de udviklere i vores database, der passer bedst til opgaven.
På blot 24 timer (på alle hverdage) har I CV'er fra højt kvalificerede Perl-udviklere i jeres indbakke allerede.
Vores service er ganske gratis og uforpligtende.
Brug for en specialist? Få CV'er tilsendt på under 24 timer