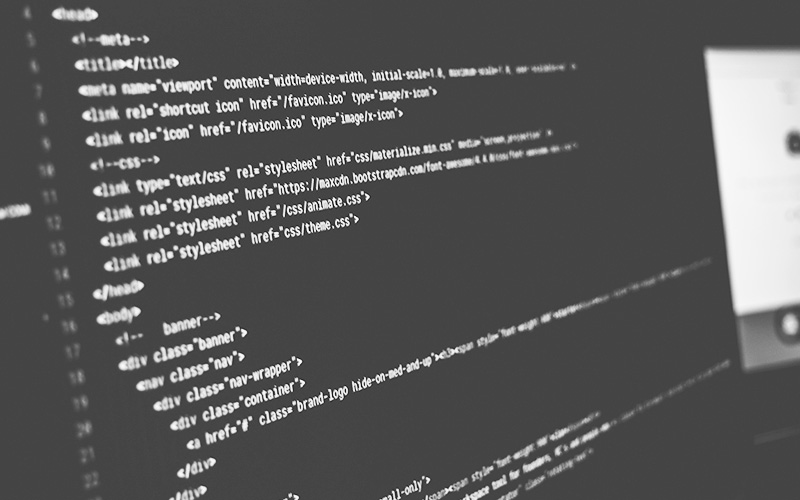 Find Ruby-specialister til dit udviklingsprojekt
Eller brug formularen, så kontakter vi dig
I Avenida har vi specialiseret os i at hjælpe vores kunder med at finde de helt rigtige IT-specialister til deres opgaver. Mangler du en web-udvikler, der kan kode i bla.a. Ruby, så er du kommet til det rette sted. Vi står klar til at tage udfordringen op og hjælpe dig og dit projekt til succes.
Du skal blot udfylde formularen og så klarer vi resten. Indenfor bare 24 timer (på alle hverdage) vil du have kvalificerede CV'er fra dygtige web-udviklere i din indbakke. Vores service er ganske gratis og helt uforpligtende.
Oprindelsen og mange fans
Siden Ruby blev opført i 1995, har det bygget sig en stor flok tilhængere verden over.
I 2006 blev sproget for alvor populært og voksede sig endnu større. Det er sågar placeret i top ti på den liste, som måler på kodesprogenes vækst og popularitet i hele verden. https://www.ruby-lang.org/en/about/
Ideerne bag sproget
Ruby er et sprog med en sirlig balance. Skaberen bag sproget, japanske Yukihiro "Matz" Matsumoto, kombinerede dele fra hans yndlingssprog, som blandt andet Perl, for at skabe Ruby. Det skulle balancere mellem funktionel programmering og tvingende programmering, og dermed skabe det mest agile programmeringssprog.
Matsumoto har også sagt, at han ville gøre det så naturlig som muligt og ikke enkel, på en måde, der afspejler livet.
Til dette tilføjer han: En rubin er enkel i udseende, men er meget kompleks indeni, ligesom den menneskelige krop. https://www.ruby-lang.org/en/about/
Facts og fordele om Ruby
– Det er et open source-program og er frit tilgængelig på internettet.
– Det er et fortolket programmeringssprog.
– Det er et objektorienteret programmeringssprog.
– Det er et scriptingsprog, der kører på serversiden.
– Det kan bruges til at skrive Common Gateway Interfaces (CGI) scripts.
– Det kan let integreres med HTML.
– Det har en nem og simpel syntaks, der gør det muligt for nye udviklere at lære sproget nemt og hurtigt.
– Dets syntaks minder meget om flere andre programmeringssprog, bl.a. C++ og Perl.
– Det er meget skalerbart, og har store programmer skrevet i Ruby kan let vedligeholdes.
– Det kan bruges til at udvikle internet- og intranetapplikationer.
– Det kan installeres i Windows- og POSIX-miljøer.
– Det understøtter mange GUI-værktøjer som Tcl / Tk, GTK og OpenGL.
– Det kan let forbindes til DB2, MySQL, Oracle og Sybase.
– Det har et rigt sæt indbyggede funktioner, som kan bruges direkte i Ruby-scripts.
Læs mere her:
https://www.tutorialspoint.com/ruby/ruby_overview.htm

Et objektorienteret kodesprog
Matz kiggede oprindeligt på andre kodesprog, da han skulle lave den optimale syntaks i sit nye sprog.
Han siger følgende: "Jeg ville lave et script-sprog, der er stærkere end Perl og mere objektorienteret end Python." https://www.ruby-lang.org/en/about/
I Ruby er alt et objekt. Hver kode kan få egne funktioner og manøvre. Objektorienteret udvikling kalder funktioner ved at kalde på navnene, som de forskellige kodeafsnit har fået.
Idéen bag objektorienteret programmering er at opdele kodeafsnittende i klasser, med hver deres funktionalitet i programmet. Man benytter en klasse ved at lave én eller flere hændelser af klassen, som dermed bliver til et objekt.
Lad os finde jeres næste Ruby-konsulent
Vil du have succes med et IT-projekt kan det være betydeligt vigtigt at finde den rette freelancer til dit projekt.
Leder du efter den rette konsulent, der kan løse jeres opgaver til perfektion? Så er du kommet til de helt rigtige!
Hos os i Avenida er vi ikke kun hunrede meter mestre i at finde de bedste konsulenter, men vi har også sans for at finde de rigtige til vores kunders unikke opgaver.
Vi gør altid vores ypperste for at finde de helt rigtige folk til opgaven.
Vores database har vokset sig stor og er fyldt med nogen af landets dygtigste freelancere, som står klar til at hjælpe netop jer.
Vi skal blot have lidt informationer fra jer omkring projektet, og så sørger vi for at finde den bedste kandidat.
Indenfor blot 24 timer (på alle hverdage) har I CV'er fra højt kvalificerede Ruby-programmører i jeres indbakke.
Det er ganske gratis og uforpligtende, at bruge vores service.
Brug for en specialist? Få CV'er tilsendt på under 24 timer