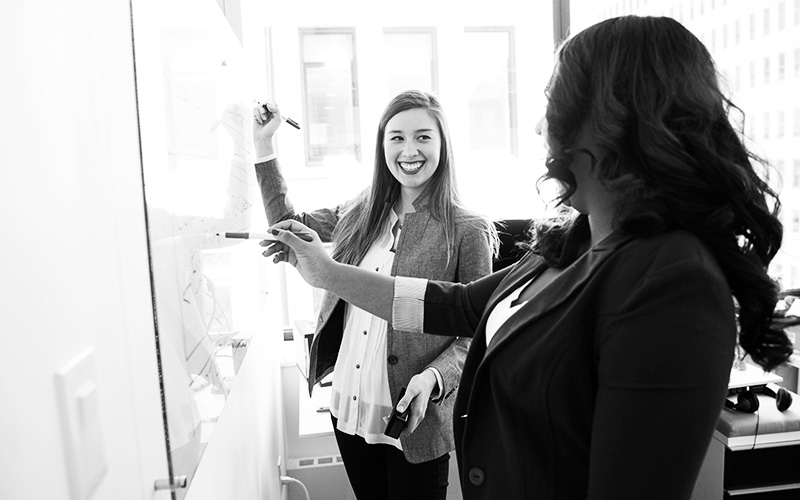 Find SQL-specialister til dit udviklingsprojekt
Eller brug formularen, så kontakter vi dig
Leder I efter en SQL-konsulent? Så lad os hjælpe jer!
I Avenida har vi specialiseret os i at hjælpe vores kunder med at finde den perfekte SQL-udvikler til deres opgaver.
Hvis I mangler en udvikler med forstand på data og specialist i SQL, så er du kommet til det rette sted. Vi står nemlig klar til at tage opgaven op og hjælpe jeres projekt mod succes.
Du skal blot udfylde formularen og så klarer vi resten. Indenfor bare 24 timer (på alle hverdage) vil du have kvalificerede CV'er fra dygtige SQL-udviklere i din indbakke.
Vores service er ganske gratis og helt uforpligtende.
SQL og databaser
Førhen blev alt data opbevaret som papir i et aflåst skab – nu bliver stort set alt data gemt online i det vi kalder databaser. SQL er et kodesprog, som er udviklet til at kommunikere med disse databaser og er derfor et udbredt sprog blandt mange webudviklere.
Man bruger bl.a. sproget til at opdatere i en database eller hente data fra en database.
Ifølge ANSI (American National Standards Institute) er det standardsproget til relationsdatabasesystemer.
Fordele ved SQL
Structured Query Language, eller i daglig tale SQL, er et deklarativt programmeringssprog, som blev offentliggjort i år 1974. Forkortelsen kan både udtales 'S-Q-L' og 'Sequel'.
Programmeringssproget anvendes, som tidligere beskrevet, til håndtering af relationelle databaser, der kan bruges til at identificere data og aflæse det. Det vil sige, når man kan hente og læse større mængder af data, oprettelse af date, opdatering og sletning af data.
SQL kan f.eks. anvendes til:
– Identifikation af virksomhedens datadele såsom regnskab, varer, ansatte, kunder mm.
– Datarelationer.
– Hvordan data identificeres i den virkelige verden (Primary Key).
Programmeringssproget SQL er ofte forbundet med andre relationelle databasesystemer og derfor kan SQL altså anvendes til mange typer af datahåndtering.
SQL's historie
Donald D. Chamberlin og Raymond F. Boyce er begge amerikanske computerforsker og designerne bag programmeringssproget SQL.
Sproget blev oprindeligt udviklet til IBM og blev egentlig kaldet SEQUEL (Structured English Query Language).
Chamberlin og Boyces første forsøg på et relationsdatabasesprog var Square, men det var besværligt at bruge på grund af abonnementsnotation.
Efter de havde flyttet til San Jose Research Laboratory i 1973, begyndte de at arbejde på SEQUEL, som senere blev til SQL. Navnet blev ændret fordi "SEQUEL" var et varemærke tilhørende firmaet Hawker Siddeley Dynamics Engineering Limited i Storbritannien.
Efter de havde testet SQL på kundeteststeder for at bestemme systemets anvendelighed, begyndte IBM at udvikle kommercielle produkter baseret på deres R-prototype.
I slutningen af 1970'erne opdagede Relational Software potentialet i de koncepter som blev udviklet af Chamberlin og Boyce, og udviklede deres egen SQL-baserede RDBMS med ambitionen at sælge til US Navy, Central Intelligence.
I juni 1979 introducerede Relational Software den første kommercielt tilgængelige implementering af SQL, Oracle version 2 til VAX- computere.
Hvad er en database egentlig?
En database er helt enkelt et opslagsværktøj hvori man kan gemme sine data på en let tilgængelig måde.
Mange systemer bruger databaser til at gemme og behandle data. F.eks. kan man med SQL separere individuelle stykker af data, så det kan anvendes i flere forskellige kontekster.
Derfor er data blevet meget mere fleksibelt og brugbart siden det var et stykke fladt papir. Et database-system muliggør at gemme en større mængde informationer på en måde, så indholdet er maskinel omkostningslet at opdatere og tilgå.

Skal vi finde jeres næste SQL-konsulent
Hvis man ønsker succes med et IT-projekt, er det afgørende at man finder den helt rigtige konsulent til opgave.
Derfor har vi specialiseret os i at finde og matche de rette freelancere med de opgaver, som vores kunder skal have løst. Vores database har efterhånden vokset sig stor, og er fuld af blandt andre SQL-udviklere, som blot venter på at hjælpe jer!
Når I har udfyldt formularen, så sender vi inden for 24 timer (på alle hverdage) CV'er på kvalificerede freelancere, der passer til netop jeres unikke projekt.
Det er ganske gratis og uforpligtende, at bruge vores service. Vi glæder os til at høre fra dig!
Brug for en specialist? Få CV'er tilsendt på under 24 timer