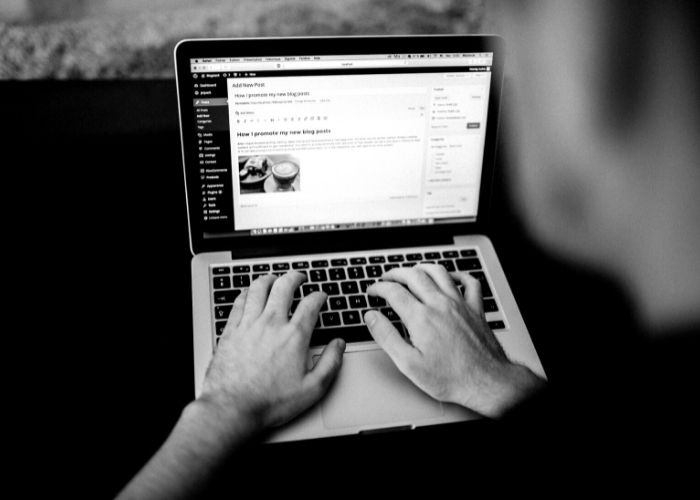 Find eksperter i WordPress til udvikling og optimering af jeres hjemmeside.
Eller brug formularen, så kontakter vi dig
Vi har gennem mange år hjulpet virksomheder med at finde de bedste WordPress-specialister, til mange forskellige typer opgaver. Det kan være udvikling af ny funktionalitet i form af plugins eller templates. Det kan også være migrering fra et andet system til udvikling af ny hjemmeside fra scratch i WordPress.
Vi finder og matcher markedets dygtigste konsulenter, der passer bedst til netop jeres projekt.
Du skal blot udfylde formularen og så klarer vi resten. Indenfor bare 24 timer (på alle hverdage) vil du have kvalificerede CV'er fra dygtige WordPress-specialister i din indbakke. Vores service er ganske gratis og helt uforpligtende.
Lidt om WordPress
Første version af WordPress blev udgivet i 2003 af Matt Mullenweg og Mike Little. De var begge brugere af det tidligere bloggingsystem b2 Cafelog, men hvor udvikling var gået i stå. De besluttede sig derfor for at udvikle en ny og forbedret platform og WordPress blev taget rigtig godt imod fra start. Det tog dog for alvor fart i 2004 hvor WordPress version 1.2 med den nye plugin-arkitektur blev udgivet. I dag er WordPress et af de meste foretrukne Content Management Systemer pga. de utrolig mange muligheder og den fleksibilitet det tilbyder.
WordPress er et open-source CMS udviklet i PHP med en MySQL database.
Et plugin af muligheder
Sandsynligheden for at andre har manglet den samme funktionalitet som dig og allerede udviklet et plugin til det er stor. Ofte er der flere plugins til det samme at vælge imellem. Det gør det nemt og billigt for dig at udvikle din hjemmeside.
Det store udbud kan dog også gøre det en smule uoverskueligt at navigere i og ikke alle plugins er lige gode. Alt for mange plugins som er programmeret af mange forskellige udviklere, kan også have nogle negative effekter som en "sløv" hjemmeside og nogle plugins er desværre også behæftet med fejl.
Ved at bruge en erfaren WordPress specialist til dit projekt, sikre du at få et optimeret og optimalt resultat.
Sikkerhed
WordPress er et sikkert system, men som med alt andet der ligger online er det vigtigt at der er implementeret nogle processer der bliver fulgt i forhold til datasikkerhed. Det er sådan noget som at holde systemet opdateret og kun bruge plugins (tredjepartstilføjelser) fra "trustet" leverandører. De mange udviklere af plugins til WordPress er både det der gør dette CMS utroligt fleksibelt og mulighederne nærmest uendelige, men det gør også at det er mere sårbart.
Vores dygtige WordPress konsulenter vil kunne navigere i dette og kan sørge for at i får en sikker platform.
WordPress – nemt, simpelt og effektivt
WordPress er et Content Management System der er simpelt og intuitivt at redigere og publicere i, kort sagt gør arbejdet for jeres redaktører meget nemmere og effektivt.
Mulighederne er mange med WordPress og vi har rådgivet kunder gennem mange år og kan hjælpe med både at finde de rigtige eksperter til projektet, men også hjælpe med at få planlagt projektet, inden der ansættes folk.

Lad os finde jeres næste WordPress-konsulent
Står I med et behov for en konsulent, så kan vi hjælpe med at finde den helt rette freelancer til opgaven. Vi har mange års erfaring med at forbinde landets bedste specialister med virksomheder. Vores store netværk, stærke ekspertise og forfinede match-service sikrer jer, at I får den helt rette konsulent.
Når I henvender jer, vil I allerede modtage relevante cv'er i jeres indbakke inden for 24 timer (på hverdage). Kender I ikke jeres konkrete behov endnu, kan vi også tage en dialog omkring jeres projekt, og hjælpe jer hele vejen fra start til slut med hele projektet.
Brug for en specialist? Få CV'er tilsendt på under 24 timer