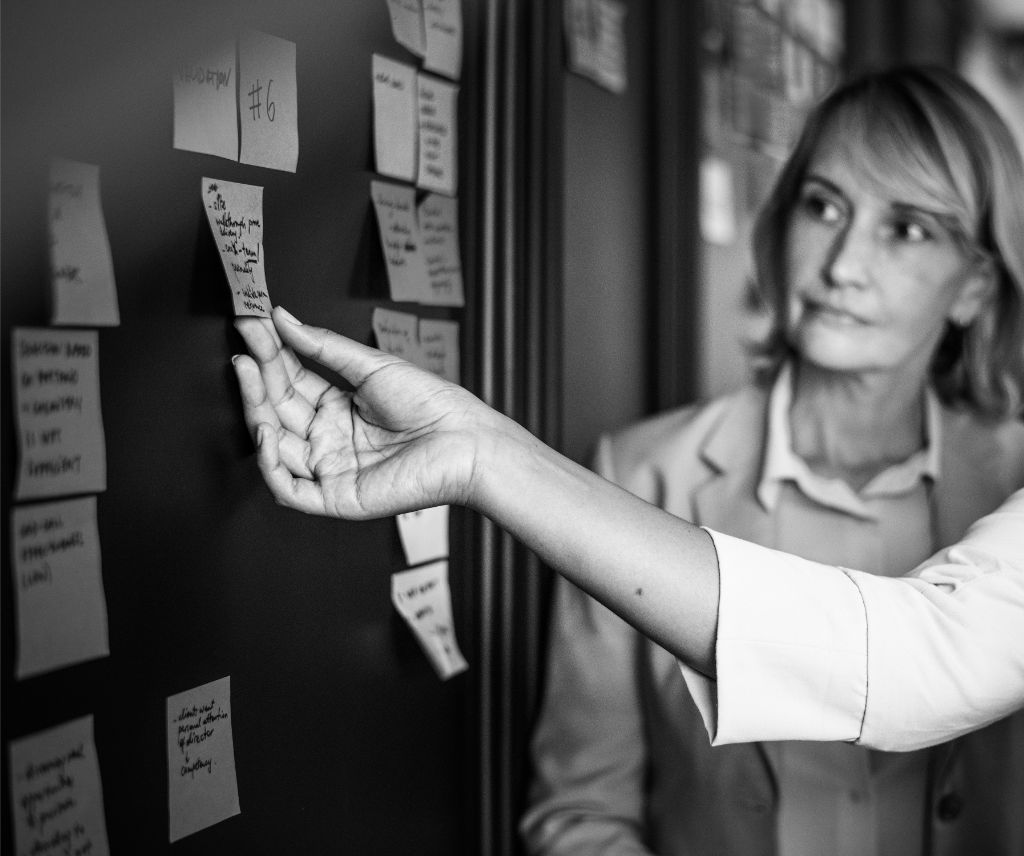 Find dygtige konsulenter inden for Scrum gennem os
Eller brug formularen, så kontakter vi dig
Scrum er blevet en af de mest populære metoder, når der skal styres it-projekter. Derfor er det blevet særlig populært at finde dygtige it-konsulenter, som har erfaring med Scrum.
Hos Avenida har vi mange års erfaring med at ansætte dygtige konsulenter med erfaring i Scrum, som kan hjælpe virksomheder inden for ledelse- og leverandstyring. Ved at benytte vores service kan I øge chancen for at få succes med jeres næste it-projekt. Vores mange års erfaring gør nemlig, at vi kender til sammensætningen af et godt team.
Hvis du ønsker at benytte vores service, så tager det blot få minutter at beskrive jeres projekt her på hjemmesiden, og så sender vi cv'er på kvalificerede Scrum-konsulenter direkte i jeres indbakke inden for 24 timer på hverdage.
Om Scrum
Scrum er et framework der hjælper udviklere med at samarbejde. Her opbygges nogle faste rutiner, som hjælper udviklerne med at udvikle i en fælles retning. Herunder kan du se nogle af de dele, som Scrum gør brug af.
Sprints
Her opdeler man udviklingen af et stort projekt ind i mindre dele (sprints). Typisk tager et sprint to uger, og her er det udviklernes opgave at estimerer opgaverne, og så laves der en sprint-planlægning, hvor mængden af opgaver skal svare til, hvad der kan løses på to uger. Efterfølgende laves der et sprint review, hvor der bliver mulighed for vurderer, om sprintplanlægningen skal korrigeres til næste gang.
Backlog
Dette kalder man typisk den pulje af opgaver, som endnu ikke er planlagt i kommende sprints. I nogle teams planlægger man kun et par sprints ud i fremtiden, og derfor kan der være mange ligge i backlog.
Standups
Ofte har man et kort dagligt møde blandt de involverede udviklere. Man kalder det standups, fordi man typisk blot stiller sig op foran samme plads og tager tingene, da det typisk kun tager få minutter. Her skal udviklerne typisk svare på spørgsmålene; hvad lavede du i går, hvad skal du lave i dag og er der nogle udfordringer, som forhindrer dig i at løse opgaverne.
Roller i et Scrum-team
Når man skal finde en Scrum-konsulent, så handler det først og fremmest om at kende til de forskellige roller i et team, som kører efter Scrum. Herunder kan du læse om de tre roller, som man finder i et Scrum-team.
Scrum Master
Det er personen som holder styr på alle trådene og sørger for, at teamet arbejder i en fælles retning. Det er også Scrum Master som sikrer, at selve frameworket bliver overholdt.
Product Owner
En Product Owner skal påtage sig kundens synspunkt og på en måde lade som om, at det er vedkommende, der køber produktet. Derfor er det Product Owner, som hjælper med at træffe vigtige beslutninger ift. produktets udfordring, og det er typisk Product Owner, som udviklerne går til, hvis de har spørgsmål for, hvordan selve produktet skal fungere.
Udvikler
Der skal naturligvis også være udviklere, der laver selve produktet. De fleste udviklere kan hurtigt lære at fungerer i et Scrum-team, men det er naturligvis rart at finde en konsulent, som allerede har erfaring med at arbejde i et Scrum-team.

Skal vi finde jeres næste Scrum-konsulent?
Vi har udarbejdet og forfinet vores matchservice gennem mange år. Vi har hjulpet mange virksomheder gennem årene med at finde de helt rigtige Scrum-konsulenter, og vi kan også hjælpe jer uanset behovet.
Vi har nemlig en stor database med dygtige udviklere, der ønsker at arbejde på konsulentbasis. I vores database kan vi nemt udvælge de kandidater, der bedst matcher jeres projekt – også hvis I arbejder med Scrum i jeres teams.
Vores service er naturligvis gratis og uforpligtende, og du modtager dermed cv'er inden for 24 timer. Du er også velkommen til at kontakte os, hvis vi skal hjælpe jer med at ansætte et komplet Scrum-team, der kan løfte en større opgave.
Brug for en specialist? Få CV'er tilsendt på under 24 timer