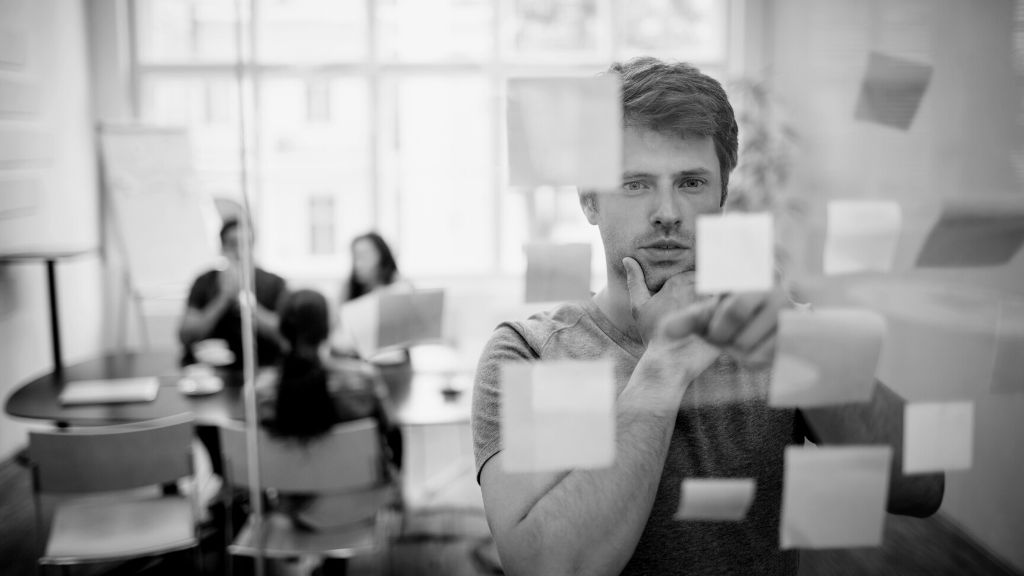 Find en dygtig programleder på konsulentbasis til jeres næste projekt
Eller brug formularen, så kontakter vi dig
Programledelse er en vigtig rolle, som typisk ses i lidt større organisationer, der får udviklet flere systemer. Programlederen er nemlig ansvarlig for en række projekter, som kaldes et program. Det er programlederens ansvar, at de overordnede strategiske linjer holdes, og at der er en rød tråd gennem alle de udviklede projekter.
Vi kender til vigtigheden af have de rette roller i teamet og have styr på ledelse og leverancer. Derfor er en programleder også en vigtig brik for virksomheder, der er ambitiøse omkring deres udvikling. Vi kan hjælpe jer med at finde dygtige konsulenter, som kan stå for programledelsen i jeres virksomhed.
Hvis du beskriver jeres projekt her på hjemmesiden, så sørger vi for at sende cv'er på dygtige programleder-konsulenter inden for 24 timer på hverdage.
Forskellen på programledelse og projektledelse
Disse to bliver ofte forvekslet med hinanden, hvis også er forståeligt. Rollerne i projekt- og programledelse kan nemlig på overfladen minde rigtig meget om hinanden, da begge har til formål at være tovholder i udviklingen af nye projekter.
En projektleder er dog (som navnet antyder) væsentlig mere involverede i de enkelte projekter, og har til formål at holde alle de forskellige interessenter tilfredse.
Programlederen er på et lidt mere overordnet plan, hvor der skal sikres, at alle projekterne hænger sammen med virksomhedens overordnede strategi og mål. Eksempelvis kan en virksomhed have et overordnet mål, som er at få digitaliseret alt deres data. For at gøre dette, skal der køre mange forskellige projekter – og alle disse bliver så en del af et program, hvor ansvaret for at det overordnede mål følges er hos programlederen.
Vigtigheden af erfaring ved programledelse
Det er naturligvis vigtigt at have erfaring som it-konsulent, uanset ens rolle. Dog er det særligt vigtigt ved en programleder-konsulent, da vedkommende får et stort ansvar.
Har man ikke den nødvendige erfaring, kan man komme til at overse vigtige ting eller mangle en grundlæggende forretningsforståelse, som svækker de beslutninger, man træffer. En programleder skal også kunne indtræde i et team med dygtige projektledere, udviklere, scrum-masters og lign., og det er også vigtigt for dem at få sparring fra en meget dyb erfaring og høj troværdighed.
Vores proces

1) Beskriv jeres program
Hvis I søger en programleder, må I gerne forsøge at beskrive hele jeres program – og eventuelt en lille smule omkring nogle af de nært forestående projekter i programmet.
2) Vi sender det ud i vores database
Vi sørger for at sende en kort, konkret beskrivelse ud til vores kæmpe netværke af specialister, som arbejder på freelancebasis med programledelse.
3) I modtager cv'er i indbakken
Allerede inden for 24 timer på hverdage vil I have cv'er fra dygtige programledere i indbakken. Her får I selv mulighed for at læse mere om, og sammenligne, de mulige kandidater.
4) Mulighed for at hyre konsulent
Nu har I naturligvis en mulighed for at hyre den ekspert i programledelse, som passer bedst ind i jeres organisation eller program. Det er naturligvis uforpligtende, så I ikke er tvunget til at vælge en af konsulenter, hvis der – mod forventning – ikke skulle være det rette match.

Skal vi finde jeres nye programleder?
Uanset størrelsen på jeres organisation, platformene I arbejder med eller lokationen på jeres kontor kan vi finde dygtige programledere, som er interesseret i at arbejde freelance for jer. Konsulentmodellen har nogle klare fordele, da den giver en større fleksibilitet ift. antal timer pr. måned og antal måneders ansættelse.
Vi har udarbejdet en match-service, som vi konstant forbedrer, så vi kan opretholde det høje niveau af it-konsulenter, vores kunder er vant til. Vi hjælper jer også gerne med sparring og rådgivning, hvis I ikke er helt sikre på, om programledelse er nødvendigt med jeres projekter.
Har vi vækket din interesse? Så udfyld formularen her på siden, og så fremsender vi gratis og uforpligtende cv'er fra dygtige programleder-konsulenter.
Brug for en specialist? Få CV'er tilsendt på under 24 timer