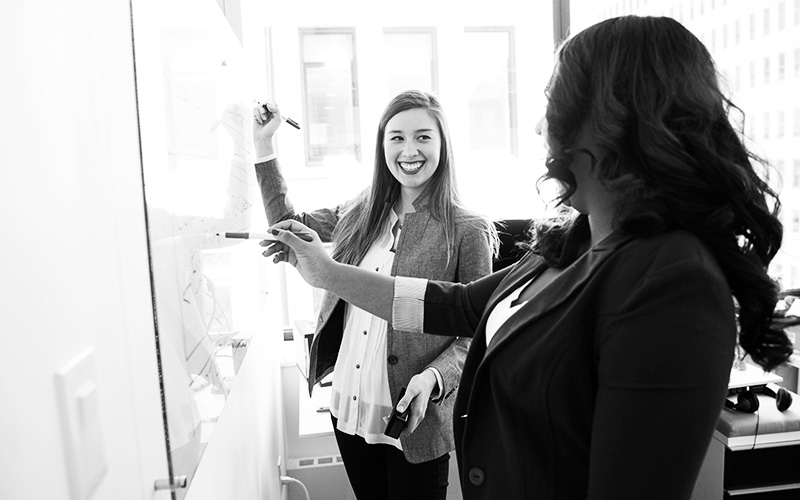 Microsoft Dynamics 365 konsulenter
Find Dynamics 365 specialister her via Avenida.
Eller brug formularen, så kontakter vi dig
Hvis I mangler en specialist på konsulentbasis indenfor Microsofts platform Dynamics 365, vil vi gerne hjælpe med at finde den helt rigtige kandidat.
Igennem vores store netværk af konsulenter finder og matcher vi markedets bedste kompetencer.
Send en beskrivelse af jeres projekt via formularen og få kvalificerede CV'er retur indenfor 24 timer (på alle hverdage).
Lidt om Microsoft Dynamics 365
Dynamics 365 blev lanceret i 2016, hvor Microsoft slog deres Dynamics AX (ERP) og Dynamics CRM sammen. Microsoft var en af de første på markedet til at komme med en sådan integreret løsning. Set i lyset af hvor dynamisk en virksomhed skal være i dag og behovet for unikke løsninger, er det blevet mere og mere vigtig for softwareudbydere at tilbyde applikationer, der tager højde for skiftende trends. Dynamics 365 er en omfattende pakke af services, der giver en all-in-one-løsning, så du som virksomhed ikke skal ud og tage stilling til, hver af de mange muligheder der er tilgængelig.
Dynamics 365 moduler
Dynamics 365 tilbyder en bred vifte af cloud-baserede moduler du som organisation kan vælge at bygge på jeres platform. Det giver mulighed for at skræddersy løsningen præcis til jeres unikke behov.
Her er et lille overblik over de moduler og funktioner der ligger i Dynamics 365:
Customer Insights
Dette modul forener kundedata fra Microsoft Dynamics 365, Office 365 og tredjeparts kilder, for at give brugeren et klart overblik og indsigt i kunden – en indsigt der hjælper til at træffe oplyste valg. Modulet tilbyder også værktøjer, der baseret på kunstig intelligens kan bruges til at identificere brugeradfærd, mønstre og trends.
Customer Service
Dynamics 365 tilbyder flere værktøjer og kanaler til at yde kundeservice og engagere kunder via. Det kan være selvhjælps-løsninger som community-forums, AI-baserede chatbots og til mere traditionel kundeservicemedarbejder som du ringer ind til.
Field Service
Dette modul bruges primært til at planlægge ressourcer i "marken", administrere kontrakter, lagerbeholdning, indblik i IoT-produkter og kundekommunikation.
Finance and Operations
Dynamics 365 tilbyder også økonomistyring med alt hvad der tilhører af rapporterings- og analyseværktøjer. Derudover er der også fremstillingsværktøjer til projektledelse, produktionsplanlæggelse, udgiftsoversigt, kontrol af lager og håndtering af hele forsyningskæden.
Marketing
Dynamics 365 er forbundet med Dynamics CRM og Adobe Marketing Cloud der tilbyder værktøjer til håndtering af målrettede og personlige kampagner.
Project Service Automation
Mulighed for at automatisere mange processor, der gør det administrationen meget mere gnidningsfri.
Retail
Administrative værktøjer til fysisk butik og ansatte, varehåndtering og driftsindsigt.
Sales
Salgsmodulet giver indsigt i potentielle kundekilder, personalisering af service- og kundeengagement, salgsproduktivitet og præstationsmålinger på mange platforme. Med integration til nogle af de mest populære e-commerce-løsninger som Magento og Shopify, arbejder Dynamics 365 også rigtig godt sammen med disse.
Talent
Cloud-baseret Human-Ressource-løsning der med forbindelse til LinkedIn kan administrere alle HR-aspekter – tiltrække, ansætte og onboarde nye medarbejder i jeres HR-program.
Vores konsulenter har en dybdegående indsigt og erfaring med hele platformen og alle de moduler og funktioner Dynamics 365 tilbyder.
To udgaver af Dynamics 365
Microsoft Dynamics 365 sælges i to udgaver, Business og Enterprise.
Dynamic 365, Business-udgave
Til små og mellemstore virksomheder, med modulerne:
Finance and Operation
Sales
Marketing
Dynamics 365, Enterprise-udgave
Mellem og store organisationer, med modulerne:
Finance and Operation
Sales
Marketing
Customer
Project Services
Field Service
Talent
Retail
Andre Microsoft Dynamics Produkter
Selv om mange af de applikationer der tilbydes i Dynamics 365, bygger på tidligere Dynamics-produkter er Dynamics 365 på ingen måde erstatning af de tidligere produkter som Dynamics AX, GP, NAV og CRM. Alle disse produkter forbliver tilgængelige til dem der ønsker at bruge dem. Microsoft Dynamics 365 er blot en alternativ måde at få det hele samlet under samme paraply med lidt ekstra funktioner.
Hos Avenida har vi også dygtige konsulenter der kan hjælp, hvis I har et af de tidligere Dynamics-produkter.
Læs mere her:

Lad os finde jeres næste Dynamics 365 konsulent
Vi har mange års erfaring med at ansætte IT-specialister på konsulentbasis og hjælpe virksomheder med at finde de bedste konsulenter der er på markedet til deres projekter.
Vi vil også meget gerne hjælpe jer med at finde den/de rigtige konsulenter til jeres Dynamics 365 projekt. Udfyld blot formularen og i løbet af 24 timer vil I modtage kandidater med CV'er i jeres indbakke.
Brug for en specialist? Få CV'er tilsendt på under 24 timer