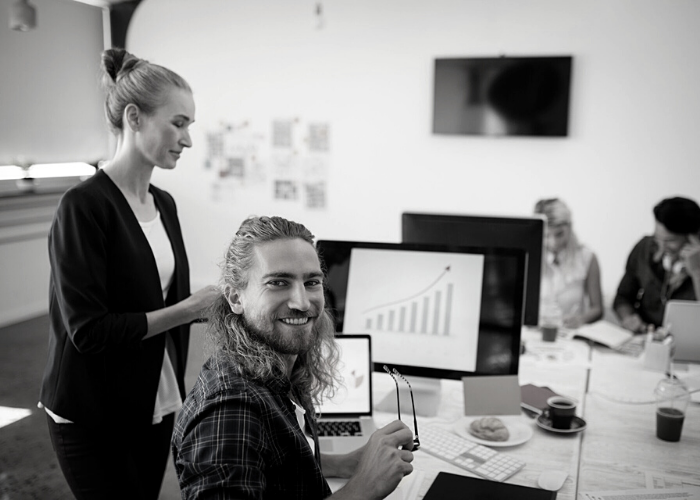 Find den rette specialister gennem os
Eller brug formularen, så kontakter vi dig
Har I brug for hjælp til at drifte eller bygge jeres website, så kan vi hjælpe jer med at finde den helt rette website-konsulent. Det kan være altafgørende for en virksomheds succes med deres website, at de har den rette it-konsulent til rådighed.
Hos Avenida har vi mange års erfaring med at matche de helt rette website-konsulenter med forskellige opgaver. Da der findes et utal af CM-systemer, kræver det en specialiseret website-konsulent, der kan hjælpe jer med lige præcis de systemer, I arbejder i.
Vores service er gratis og uforpligtende. Ved at udfylde nogle enkelte oplysninger om jeres virksomhed og behov, sørger vi for, at I har cv'er fra dygtige website-konsulenter i indbakken inden for blot 24 timer på hverdage.
Vigtige kriterier ift. at hyre en website-konsulent
Erfaring med kodesprog
Det er væsentligt at få en website-konsulent, der har erfaring med de teknologier, I benytter i jeres udvikling. Kører I eksempelvis et projekt med NodeJS og Next, så skal der findes en website-konsulent, som har erfaring med lige præcis disse frameworks.
Kendskab til CM-system
Det giver en stor fordel, hvis en udvikler har kendskab til CM-system, jeres website er bygget op i. Benytter I nogle af de største systemer på markedet som WordPress, Umbraco, Shopify eller Magento, så er der en stor sandsynlighed for, at vi kan finde en website-konsulent, som er specialiseret i netop dette system. Benytter I et mindre udbredt CM-system, så kan vi dog stadig finde en, som har et grundlæggende kendskab.
Frontend eller backend
Rigtig ofte skelnes der mellem, om en website-konsulent skal have fokus på frontend eller backend. Man kan også gå efter at finde en full-stack-udvikler, som både har evner inden for frontend- og backend-udvikling. Det kommer dog meget an på det enkelt projekt, hvilken løsning der anbefales.
Konsulenter til alle typer opgaver
Hos Avenida har vi et så stort netværk, at vi uden tvivl kan finde en website-konsulent uanset hvilken opgave, I står overfor. Herunder kan du se et lille udpluk af de konkrete opgaver, som vores website-ekspert ofte har hjulpet virksomheder med.
Website-ekspert med fleksibilitet
Når du hyrer en website-specialist gennem os, bliver vedkommende ansat på konsulentbasis. Dette giver jeres virksomhed en fleksibilitet en frihed, som har mange positive fordele. I kan eksempelvis vælge at have website-konsulenten tilknyttet i nogle måder, hvor I har nogle konkrete projekter, og så skrue ned til færre timer pr. måned.
Vi hjælper jer gerne med sparring ift., hvad det helt rigtige setup er for jeres virksomhed. Så kontakt os endelig, hvis du ønsker at høre mere om mulighederne ved at have en website-specialist ansat på konsulent-basis.

Er I klar til at finde en website-konsulent?
Så lad os hjælpe jer. Vi har gennem mange år hjulpet virksomheder med at finde dygtige konsulenter, som kan løfte deres website til nye højder. Gennem os får du højt kvalificerede eksperter, som på fleksibel konsulentbasis bliver en del af jeres team og hjælper jer med at komme i mål med vigtige website-projekter.
Vi har en stor database over konsulenter, som I kan få gavn af ved at oprette en forespørgsel her på siden. Vælger I at gøre det, sender vi nemlig cv'er fra dygtige website-konsulenter direkte til jeres indbakke inden for 24 timer på hverdage. Skulle der, mod forventning, ikke være den rette konsulent, er det naturligvis helt uforpligtende, og I behøver ikke hyre nogle af dem.
Står I overfor et større projekt, hvor der skal ansættes et helt team, så hjælper vi også gerne med personlig rådgivning ift. at skabe det bedste team.
Brug for en specialist? Få CV'er tilsendt på under 24 timer